Venue & arrival
Venue:
KIT Campus South Building 11.40
Johann-Gottfried-Tulla Hörsaal
Englerstraße 11, 76131 Karlsruhe
Directions: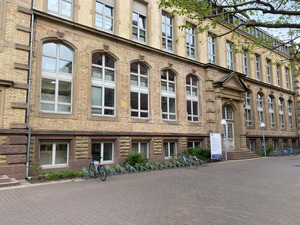 There will be coaches organized for the participants of Strasbourg, Basel and Freiburg.
For the arrival by car there are parking spaces on the parking lot "Waldparkplatz" (Adenauerring 20, 76131 Karlsruhe). Furthermore, parking is possible in the public parking garage "Parkgarage Schloßplatz" (Schloßplatz 16, 76131 Karlsruhe). Directions to the building from these parking lots are visible in the attached map.
When coming from Basel, Strasbourg or Freiburg, exit the A5 at the exit "Oststadt" and follow Wolfahrtsweiler Str., Gottesauer Str. and Kapellenstr. to Adenauerring.